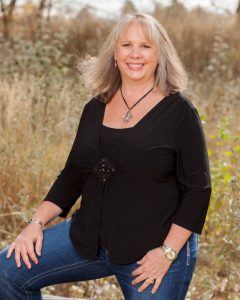 My name is Robin Wilcox.  I was born and raised in Colorado.  After graduating high school, I moved to Louisiana to attend college in the pre-dentistry curriculum.  My first job was as an orthodontic assistant which is where I went from being interested in the dental field to loving the dental field as a profession.  After a few years of orthodontic assisting and working in the lab, I crossed trained into the general dental assisting side and eventually became certified as an Expanded Duties Dental Assistant.  The office that I worked in at the time, needed help in the business office, so I once again learned another aspect of the dental practice by learning the front office and insurance processes.  After a few years past, I became an office manager for 15 years.  I joined Dr. Loper's team in 2017 as one of the front office administration personnel who work with patients, their insurance and account balances.
I love working in the dental field because I get to watch children come into the office afraid at first holding onto their parent's leg and then over time, become beautiful and confident young adults.  In our field, we help patients improve their smile and add to their increased confidence and successes in life.  In the front office, my passion is to work with patients to help them maximize their insurance benefits in order to get the best treatment recommended.  I work with families to establish options for payment according to their budget and keep the business running smoothly.
I have been married to the love of my life, Curtis, for 36 years.  God blessed us with one son, Kyle.  At home, I enjoy sewing and crocheting while indoors.  Outdoors, we grow a nice garden almost every year.  I really enjoy driving to see views of our majestic mountains and take in the energy that being outdoors provides.  I also enjoy walking, hiking and biking at leisure with family and friends.
To further develop myself as I enter the years of my encore career, I have expanded my vision from working with patients to working with families.  I have continued my education and received my insurance licenses, the Series 6 and 63 licenses for investments and currently studying for the Series 65 license.  With these licenses, I teach families the fundamental financial principles that aren't taught in school, help them establish a game plan to save for retirement, show them how to structure their debt to pay off many years earlier and show them how to properly protect their income.


Have a question?
Feel free to ask...