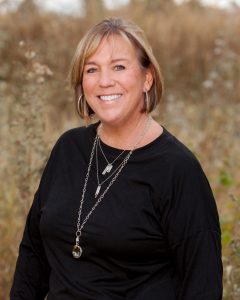 I'm a Registered Dental Hygienist. I graduated in 1990 from Colorado Northwestern community college with a degree in Applied Science in Dental Hygiene. My job is to not only clean teeth but to educate our patients on proper home care, effects and risks of periodontal disease and perform oral cancer screenings.
I love being a hygienist because I get to make patient's mouths healthier and hopefully feel good about it when the appointment is over. Not everyone is a fan of dental work but I do my best to have a good time when you're in my chair!
I grew up here in Littleton and love to run into old classmates or neighbors right here in our office! I've got a couple cats and a couple kids- but only the cats are still at home. I love flip flops and sunshine and you can find me seeking both come mid March when I usually take a long weekend away. I love my family, my life and my job! I'm truly blessed!


Have a question?
Feel free to ask...